The Traveling Salesman in 2022
It's a problem ... or is it?
As I write this I'm sitting in a coffeehouse at a communal table with a German professional who apologetically caught up with her family back home over a video call and a student taking notes for her marketing degree. Milwaukee's Stone Creek Coffee house, a Certified B-Corp has a lot going for it. However, the primary deciding factor for me being here today is the proximity to the Amtrak Station across the street where I'll catch a ride home in 4 hours. I'm wrapping up a two week road trip that started the Sunday after Thanksgiving. Haven't we all moved to Zoom? Isn't there still a pandemic raging? Do you really need to travel for business in 2022? The answer is, Yes, and … it's complicated.
Little Rock
This trip started two weeks ago with my first intended stop being Houston but I realized that my path took me directly through Little Rock, Arkansas and I had to stop and catch up with my friends at Few. They had recently built out offices that most of their employees are not working in and they are finishing renovations of a couple of apartments upstairs that hadn't been addressed in 30 years. Additionally, they were working to bring musical acts and other performances into their space. We exchanged hugs and some swag and before I left town Arlton twisted my arm into joining him for lunch at a local Honduran restaurant where I had a Cauliflower Chorizo Burrito that was better than it had any right to be.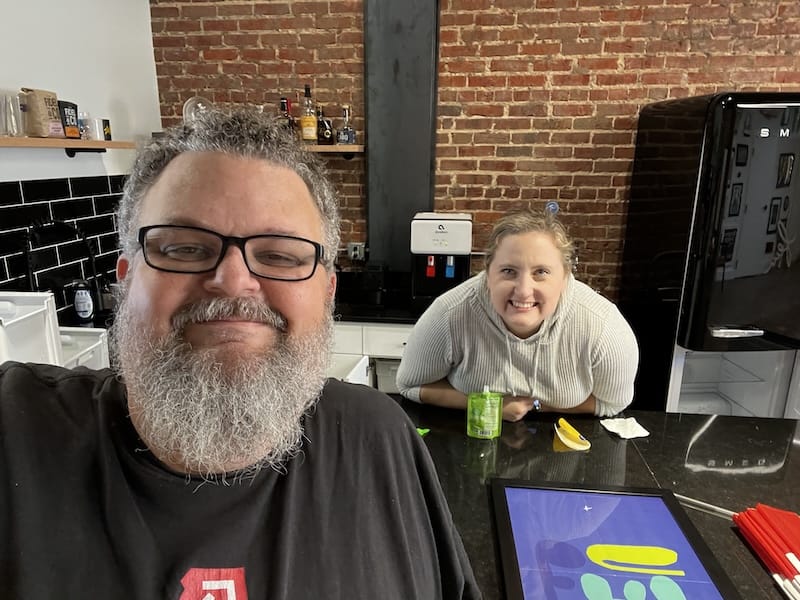 Houston
The precipitating event for this trip was to attend RubyConf 2022. Flagrant was a sponsor of the event and as such we had 4 tickets. Two of those tickets were used to bring interns from Learn Academy who'd spent the month of November with us. Like many folks we were turned off by the recent anti-LGBTQIA legislation and even went so far as to create some swag that we are selling. All proceeds from those sales are going to one of three organizations who are on the ground doing the work to support those communities in Houston.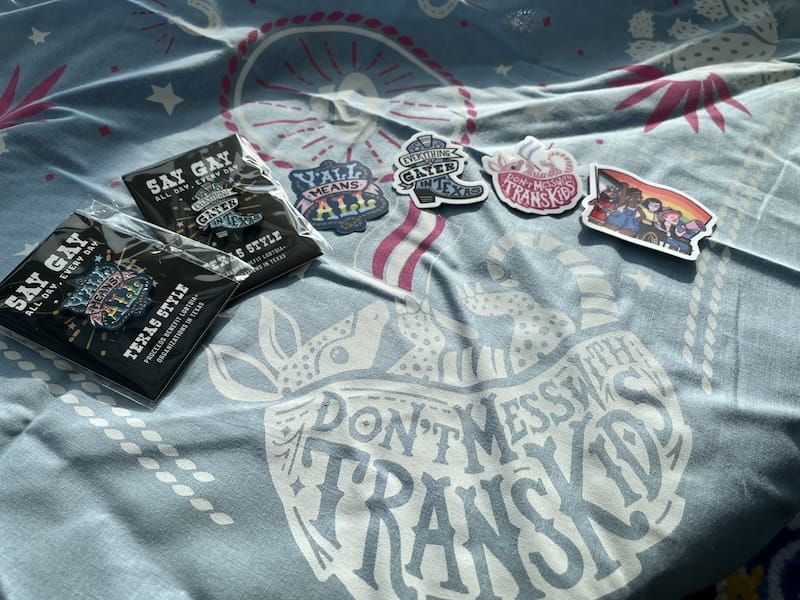 The conference attendance was lower than anticipated given the contract to host the event there was signed two years in advance. Instead of 700-800 people there were 300-400 attendees. And just as important as the quantity of people missing were the qualities of people missing.
For Joyce, the interns, and myself we rented a four bedroom Airbnb. That gave us the opportunity to host a number of people from the conference for dinner on Tuesday night. In addition to our house we also had Chelsea Kaufman, Chantelle Isaacs, and Adam Cuppy from Learn Academy and Keynote Speaker Suzan Bond & her partner Lar Van Der Jagt. We made a large salad and I banged out some Shrimp & Grits. We sat and talked for a few hours on a range of topics. Near the end of the night Joyce's Mother was able to join us and the three of us chatted about events. She had a couple different Houston venues which could host events that she can connect us to *hint* *hint*.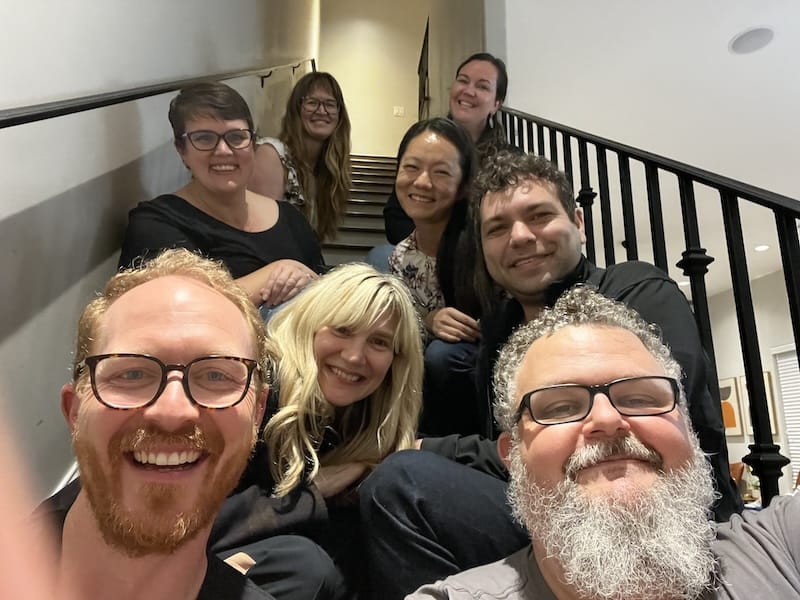 After spending the majority of the week together everyone in the house secured separate plans for Thursday night. Before that, however, we took a little time on the way home from the conference to find the childhood home of our colleague Vanessa. A nostalgic side quest full of stories and memories found a home being renovated and already very different from what Vanessa remembered.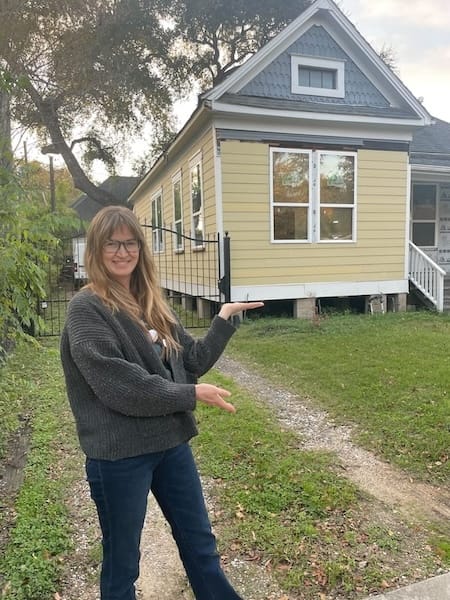 I took the opportunity to grab dinner that night with another speaker from the conference, Lori Olson and her partner, Trevor. Lori had been given a list of Houston restaurants to explore from a chef-friend. We settled on The Turkey Leg Hut and were treated to a Houston experience. Known for their stuffed turkey legs we dove into the opportunity. I had a Hennessy-glazed Turkey Leg while Lori & Trevor chose a Crawfish Mac & Cheese and Shrimp Alfredo stuffed turkey leg respectively. Each leg was nearly a foot-long and I managed to eat only half of mine with the rest coming back to the Airbnb because pictures just did not do the thing justice.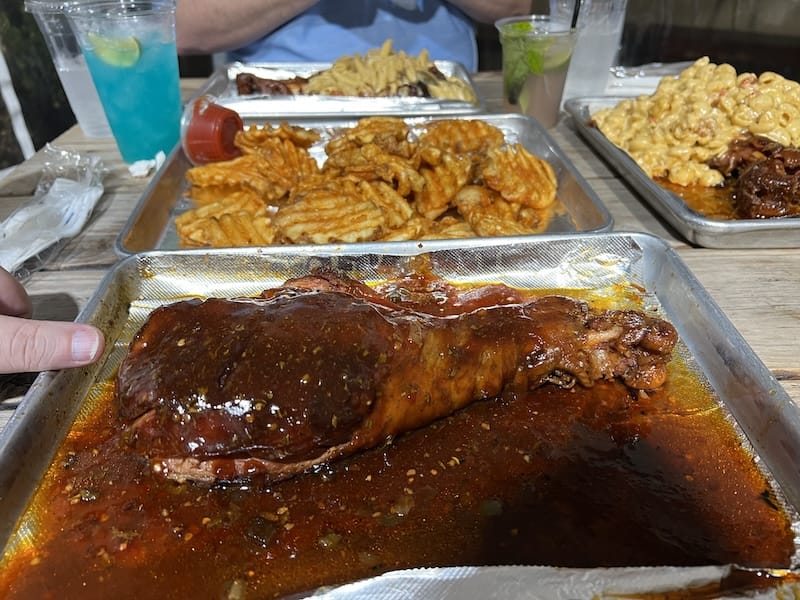 And just like that our week in Houston was over. We met Chelsea at our neighborhood coffee shop and had breakfast tacos before I whisked her and Vanessa to the airport and then made my way on to New Orleans.
New Orleans
We just added Glynnis to the team in early October. While we know each other we hadn't actually worked with each other or really gotten to know each other that well. Friday night we met up and grabbed a cocktail outdoors as her partner wasn't feeling well. Then the next morning we met up for breakfast at Flour Moon Bagel. We did some antigen covid tests and I got the opportunity to meet her partner Logan. We played board games for a few hours in their dining room and perhaps most importantly I got to see the cats I see on standup.
With Logan feeling on the mend or at least putting on appearances we made our way to Clesi's for a shrimp boil that was just fantastic.
The next morning we went to a little Jewish deli named Leo's I picked Glynnis up at their place and learned Logan had another rough night. In addition to a Goat Cheese and Beat danish I picked up a loaf of Tomato & Olive Ciabatta bread for my hosts that night …
Panama City Beach
I rolled into Panama City Beach around 6pm on Sunday and met up with The Branch Family at their Warehome. Allan and I went across the street to the brewery they started: History Class Brewing Company where we grabbed a pint and dinner. Eric Darnell from Less Films also joined us and we caught up and chatted for a while. Then we made our way to another storefront where they are preparing to open a taco shop called El Weirdo. These are some of the efforts they've put into revitalizing downtown PCB. And to hear the difference between today and three years ago they are having a huge impact.
As we ended the night I brought in the Ciabatta bread and Allan shared that he's been working on baking bread. He's searching via trial and error to make a really great beer bread. We ate the Ciabatta the next morning at breakfast and then I skedaddled my way across the state of Florida to St. Augustine.
St. Augustine
One of our most recent clients operates out of St. Augustine and I did not join the team for the week of discovery that was performed in August. Corey and his team have been great to work with and identified the value provided by our Tiger Team approach to software development. I have long espoused the virtues of meeting people face to face and wanted to take this opportunity to spend some time with Corey and his team.
In addition to his team I got the opportunity to spend time with his family as well. As luck would have it one of his daughters had a choral concert on the night I arrived. We chatted for an hour and a half and then split up to get prepared for the concert. Afterwards we had a nice Thai dinner with Corey, his wife, their kids, and his in-laws. It was a lovely evening and lots of stories were exchanged. We got to know each other pretty well on a social level which is something we both clearly valued.
We parted ways and then met for a while the next day to discuss strategy for the projects we have coming up in early 2023. Before I left we shared a lunch at the St. Augustine Fish Camp and talked frankly about situations we've each dealt with and some that overlap pretty strongly.
Jacksonville
Having lived in Jacksonville for four years I have a bunch of connections. I visited a friend and former client and grabbed some pretty alright tacos. We met up with his Operations person, Jack, who is looking for another gig to help get them to a point of sustainability.
The next morning I caught up with one of my very best friends Jessie Shternshus. She shared with me that her daughter, Maya, who had interned with us has her first real client at 16 years old. Lots of really good conversation about life, clients, and well, more life.
On the way out of town I had met up with Luis Casillas, a friend who I met through Ruby Meetups 13-ish years ago while in Jacksonville. He's an enterprise architect full of exuberant energy when digging into a topic for which he has a passion. Luis and his wife hosted me at their house and I happily took that firehose as Luis explained some process topics he was working through. As we were having lunch they pointed out that they hadn't had any visitors to the house outside of some small family gatherings since January 2020, the last time I had visited.
Atlanta
I had the most planned connections in the ATL other shop owners, friends, and partners. I spent Friday at Atlanta Tech Village which is an Incubator in Buckhead that's graduated a number of companies including Calendly. James Oliver & Caleb Martinez founders of a Co-founder matching tool names Kabila hosted me as a guest. It was a great opportunity to learn about their experience in TechStars and to see how far they have come from the idea stage they were at earlier in the year.
About that whole pandemic thing. I was planning to meet with a partner and my contact's father fell ill and will need some additional support and attention for the next few weeks. Additionally, some friends whom I catch up with regularly were also not feeling well. I know I will be back in this area for RailsConf 2023 in May and better everyone takes care of themselves than forces the issue.
Conclusion
All too often when we attempt to replicate an experience we key in on some of but not all of the details. We may not even be able to identify the value we get out of situations. Can we connect over Zoom? Absolutely! Is there a more meaningful connection that can be made when you spend time face-to-face with other people? Undoubtedly. The shared experiences, shared vocabulary, and connections can be used to relate more closely to one another and build trust. The gaps, interruptions, and unexpected all allow space for us to connect.
If you're looking for a team to help you discover the right thing to build and help you build it, get in touch.