5 Things Hiring An Intern Can Teach You.
How The Most Junior Person In The Room Can School You.
Skip To:
The Internship Structure
IN MAYA'S WORDS: Q&A
5 THINGS WE LEARNED FROM MAYA
The disposable, coffee-fetching intern trope is, thankfully, dying. It's been a minute since we all watched the movie Big, but Stranger Things swept in to remind us that all experience levels can solve problems and like, save entire dimensions.
Flagrant proposed its first internship opportunity to a design wunder by the name of Maya who still lives at home with her parents.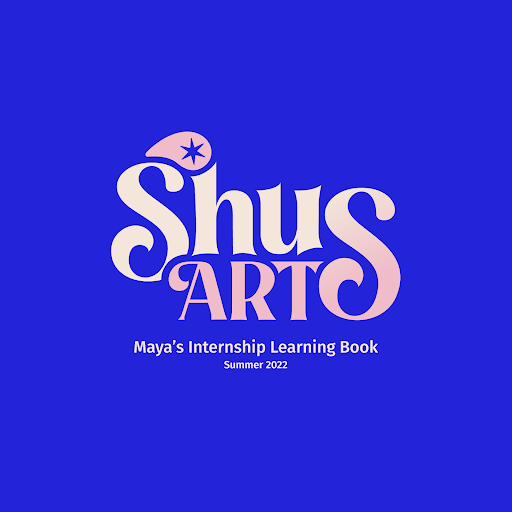 Spoiler: Shes 15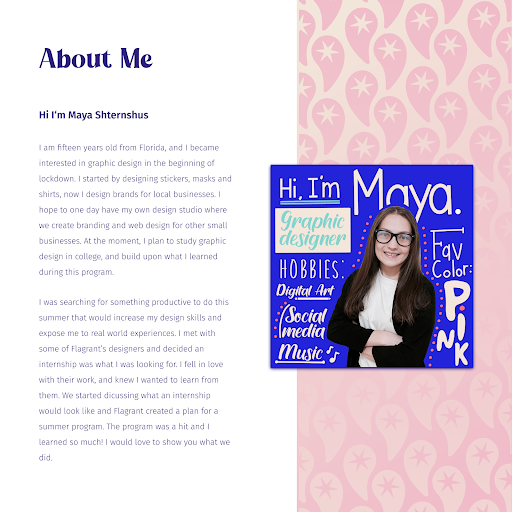 Maya entered our world softly but impressively by attending some Design Show & Tells. She'd show us the goods. We'd give her feedback. She was 14 at this point with more initiative than we've seen in some MBAs.
After a year of professionally courting one another, we thought Why not make things official and both learn something?
THE INTERNSHIP STRUCTURE
6 Week Engagement: Tuesday – Thursdays
Using our Experiments Framework WITH Maya, we answered a lot of the questions most interns are left pondering weeks into their engagement. (What are my goals? What's expected of me? Is any of this real?)
We hypothesized that the internship + personal brand project would expose both parties to new skills. Diverse new tools and strategies for Maya. And a fresh gut-check on process, communication, and mentorship for Flagrant.
Top Goal: Make sure Maya never feels ¯\(ツ)/¯ about what she was learning or the value she was bringing to Flagrant.
| Week # | Objectives |
| --- | --- |
| Week 1 | Explore Visual Design for Real-Live Clients |
| Week 2 | Research Networking Opportunities |
| Week 3 | Dive into Design UX/Research |
| Week 4 | Create Self-Promotion Assets |
| Week 5 | Develop Maya's Personal Brand |
| Week 6 | Company-wide Presentation |
Final Presentation: Maya's Learning Book (PDF)
IN MAYA'S WORDS: Q&A
Were you scared sh*tless joining a team of mostly senior designers and developers?
Kelly scared me a little bit my first week. I don't talk to many professionals in the design area and then I saw how good her work is… But she's very fun! And after a while I started to gain a lot of her personality traits, like her weird sound effects.
But I definitely was super nervous, during standup meetings for example, being with that many adults and not knowing what I was doing.
What I didn't know yet was that I was going to see moments where they didn't know what they were doing either.
What was your favorite thing you worked on?
Definitely social media. That was something I could bring to the team as it's half of my life. I felt like I had knowledge to bring there – I got to design templates, have them reviewed and create whole new ideas.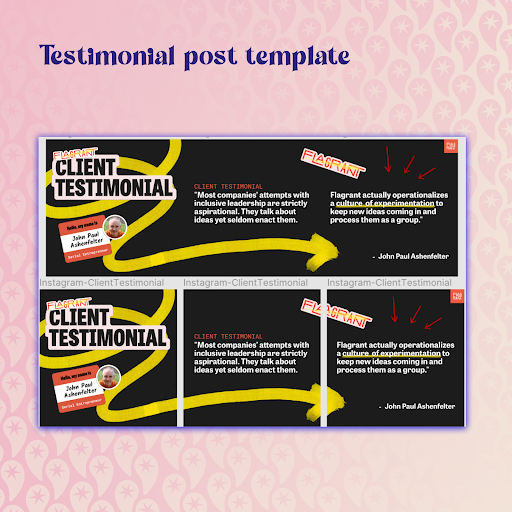 What did you find challenging?
I'd have to say the design research. It was like three days of reading! But the topic was interesting. It was about therapists and providers. I learned how to code the transcript and find details in what they had said so that we can use that to build personas. I just wasn't expecting to do anything other than visual design.
How did you deal with receiving feedback?
At first I would cry every time. It was so hard to hear feedback. Especially a lot of it all at once. It's like, I can only do one thing at a time! And then to have a list of things to try was hard for me.
Welcome to design crit ;) Tell me more!
It got easier when I stopped viewing it as my project and saw it as a client's project. Like, they're paying me to do this, and that's what they want.
I was super looking forward to the branding process when I came in. I did a week of just sketching, getting a ton of feedback, and kept pushing and pushing and pushing. That was super hard. Because I'm used to turning something in the second I'm done and not checking back over it.
Did you witness any thick-skin moments with your co-workers?
Yes! At the very beginning Kelly and I had a call with a client that she was working with and they gave her so many critiques. We did a little debrief after that, just her and me. And I was like I would've cried in the corner after that meeting. And she just said You've gotta throw it away and try again. Feedback is an opportunity to learn and reset assumptions.
A quote that came out of that is "Progress doesn't always look like progress."
What surprised you about Flagrant?
The culture that Flagrant has. I loved seeing them every morning, playing games, and experiencing how well they work together. I haven't had a real job yet, so I've just seen things in movies. And they don't play games at work!
I also really liked the way they have experiments. I didn't know that could exist. I love that someone can just come up with a good idea and plan it out and then every Wednesday we chat about the idea and if it's going well. And then something completely new comes out of it.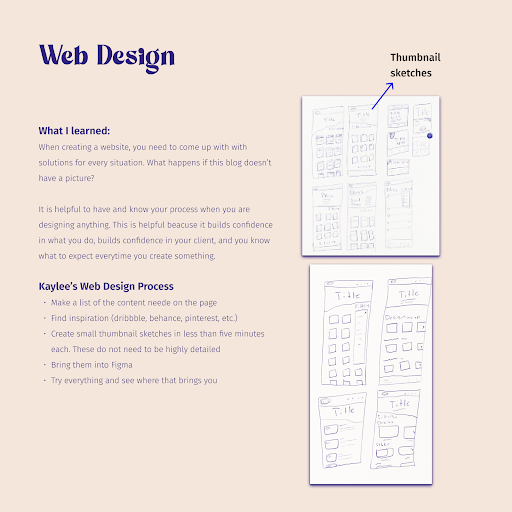 Did you learn something you could apply to Real Life?
My sister went to the doctor because her knee was hurting, and my Mom wanted a second opinion. I told my Mom to think about what she wants out of that appointment. That is a design research thinking question!
What will you bring forward to help you out in high school?
The stuff from the design research – like the affinity mapping and strategy. You collect all this data and organize it into sections and then organize those sections into smaller groups. I love being organized! So it's perfect for me. And it synthesizes your data really easily. So that would definitely be taken away if I have a research project or just anything I'm interested in learning about.
I've also gotten more confident talking to adults and gained confidence in myself, knowing that I've been working for a real company and they liked my work.
So the stuff you didn't like at first ended up being the most helpful? ;-)
What would you tell Scared Maya on her first day?
You're good enough.That would definitely be good for me to know, because I thought I didn't deserve to work for Flagrant. Now I know better.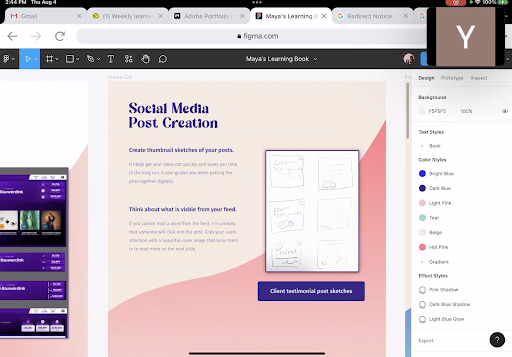 How has your design process changed?
I was excited to jump into stuff right away and be done as quickly as I can. But I learned I need to moodboard and sketch more. I have a lot of unfinished products because I felt I wasn't good enough to keep going. I've called myself a lazy perfectionist. Now I know the importance of iterating and getting feedback and pushing the design over time.
How has this internship changed future Maya's work plans?
When I came into this, my dream job was to be a freelancer. I wanted to be on my own. But I've learned from building my brand that it is so helpful getting feedback to push me to go farther. So now my dream job is to be a brand designer in a studio with open feedback.
Do you have all the respect for your working Mom now?!
Oh my gosh. Yeah. That's something huge that came out in the beginning. I never understood what she did to the fullest. And now I'm able to see it in real life – how what she did affects Flagrant every day in building an open community. Now when she gets on calls every day, I understand that it's not the easiest thing to do, to be on Zoom 24/7.
5 THINGS WE LEARNED FROM MAYA
1. ENTREPRENEURIAL SPIRIT IS AGELESS
Ever meet a teen who loves affinity mapping? Probably not. Maya herself would have called that capital L Lame. But putting people in new situations helps them figure out what they're good at. Never stop doing this whether someone is 15 or 55.
2. BRAINS WITH NEW CAR SMELL ARE LIFE-GIVING
A factory-sealed brain without cynicism or career baggage teleports you back to a time when you were less worried about the how. Having Maya's optimism on the team was a reliable Ted Lasso tonic that reminded us to marvel and dream.
3. YOU DON'T HAVE TO BE THE EXPERT IN FIELD TO BRING VALUE
If Temple Grandin has taught us anything, it's that good ideas come from everywhere. The newb might not grasp your process or client complexities, but they'll have a nose for new ground. Example: Maya told us about Gumroad as a passive avenue to sell digital assets.
4. APPRECIATIONS ARE UNIVERSALLY, UM, APPRECIATED
No matter how junior or senior you are, everyone has a fundamental need to feel understood and valued. Learn how your team-mates like to be praised (publically? discreetly? through acts of service or growth opportunities?) and make the effort to see them how they like to be seen.
5. IT AINT REAL UNLESS IT'S OUTSIDE OF YOUR HEAD
How many theoretical initiatives have we all been a part of? Where the objectives are fuzzy and everyone leaves the meeting side-eying one another? Articulate your goals! Outline the expectations! Set a tangible takeaway like Maya's Learning Book to refer back to every teaching moment! It doesn't need to be a Harvard-level brief. It just needs to be out of your brain.
If you're looking for a team to help you discover the right thing to build and help you build it, get in touch.