Happy Pi(e) Day
Our favorite pie recipes from the team
As a fully remote time, hosting a pie-pot-luck is not an option. So our team is celebrating Pi Day by sharing our favorite pie recipes with you. 🥧 Be rational or be pi!
"If you wish to make an apple pie from scratch, you must first invent the universe." — Carl Sagan
---
Creamy Peanut Butter Pie
From Food and Wine https://www.foodandwine.com/recipes/creamy-peanut-butter-pie
Sweet and Salty, Sweet and Salty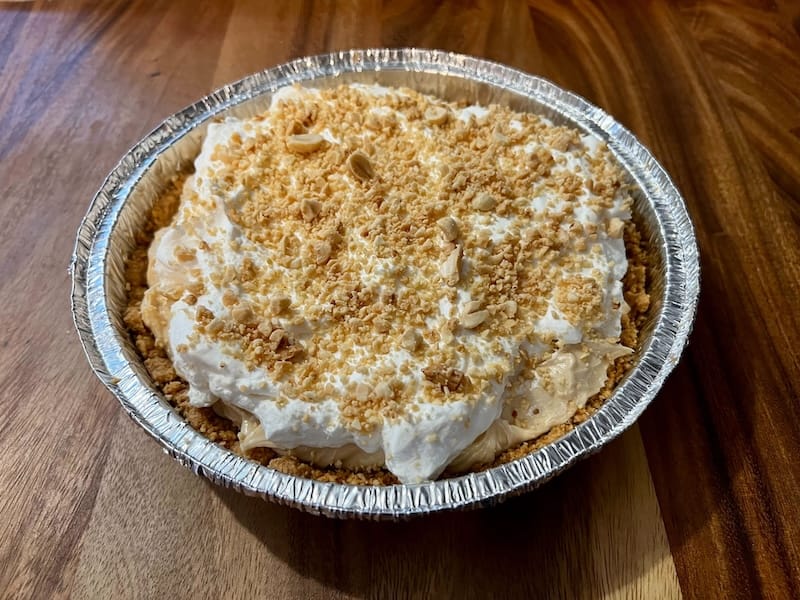 Ingredients + measurements:
8 ounces peanut butter sandwich cookies, such as Nutter Butters
Salt
4 tablespoons unsalted butter, melted
1/2 cup creamy peanut butter
4 ounces cream cheese, at room temperature
1/2 cup plus 2 tablespoons confectioners' sugar
1 3/4 cups heavy cream
1 teaspoon pure vanilla extract
1/4 cup salted roasted peanuts, coarsely chopped
Instructions:
Preheat the oven to 350°. In a food processor, pulse the cookies with 1/4 teaspoon of salt until finely ground. Scrape the cookies into a 9-inch pie plate. Stir in the melted butter, 1/2 tablespoon at a time, until the crumbs are the texture of wet sand; you may not need to use all of the butter. Using your fingers, press the crumbs evenly over the bottom and up the side of the pie plate. Freeze the crust for 15 minutes. 
Bake the crust for about 10 minutes, until lightly golden. Let cool on a rack. 
In a medium bowl, combine the peanut butter with the cream cheese, 1/2 cup of sugar and 1/4 teaspoon of salt and mix until thoroughly blended. In another bowl, whip 3/4 cup of the heavy cream until stiff. Whisk the whipped cream into the peanut butter mixture. Spread the peanut butter filling in the crust in an even layer. Refrigerate until chilled, about 30 minutes. 
In the same whipped-cream bowl, whip the remaining 1 cup of heavy cream and 2 tablespoons of sugar with the vanilla until stiff. Spread the whipped cream over the pie. Sprinkle the pie with the chopped peanuts, cut into slices and serve. 
---
Macaroni Pie 
For the rest of the world, pie is considered a dessert but in parts of the Caribbean, macaroni pie is a savory side dish served at almost any and every social gathering. 
Soft, gooey cheesiness at the center and a crunchy texture at the top, and after all, who doesn't love macaroni? 
Image: https://cooking.nytimes.com/recipes/1022707-trinidadian-macaroni-pie
Ingredients + measurements:
2 cups dry, elbow macaroni
½ tbsp unsalted butter
½ cup grated onions
2 large eggs 
1 ½ cups evaporated milk 
1 ½ tsp yellow mustard 
1 tsp kosher salt 
1 tsp ground black pepper 
3 cups grated cheddar cheese 
Just a pinch of cayenne 
Instructions:
Preheat the oven to 375 degrees Fahrenheit with the rack in the center. Grease a 2 quart baking dish and set aside. 
Boil the macaroni in a pot of salted water for about 5 or 6 minutes (just a little al dente). Drain the water and place the macaroni back into the pot. Don't forget to turn off the heat now!
Melt the butter and add the onions in a skillet over medium heat. Stir and cook until it's translucent (this takes about 5 minutes). Add the butter-onion mixture to the pot of drained macaroni. 
Grab a mixing bowl, and whisk the eggs with the evaporated milk. Add in the mustard, salt and pepper. Pour this over the macaroni, and give it a good stir. Add ½ cup of the grated cheddar and if you're using cayenne, now would be the time to add that in. 
Pour into the prepared baking dish and sprinkle the top with the reserved cheddar cheese. Bake for 35-45 minutes, or until the top is golden brown. 
Cool the pie for 10-15 minutes, cut into squares and serve!
(Best enjoyed with stewed meats with extra gravy, and callaloo which is a soup made with lightly steamed spinach, and other vegetables) 
---
Dutch Apple Pie  
From Kelly Rauwerdink (Rauwerdink is Dutch - meaning either between the river or farm or some shit like that…ya know, authentic Dutch pie action.)
Apple pie was the best thing my family seldom made for dessert, so it was always a big deal when we had it. And in traditional Rauwerdink fashion, we added random crap that we found from the kitchen into it, cuz why not.
Ingredients + measurements:
Crust
Single Pie Crust (usually we purchased ours at the local grocery store v. made from scratch – you do you)
Pie Filling
Lemon Juice

juice from half a lemon, 2 tablespoons, no more
¼  teaspoon lemon zest

~12-13 heckin' round apples (making 5lbs) – Granny Smiths, Braeburns, Macintosh etc…an apple of your eye
½ cup – Brown Sugar packed
½ cup –Granulated Sugar
⅓ cup – All Purpose Flour
½ teaspoon – Salt
1- ½ teaspoon – Cinnamon
¾ teaspoon – Nutmeg
½ teaspoon – Cardamom (if you fancy)
1 teaspoon – Vanilla 
Handful – Cinnamon Imperials Candy - This was the 80's family add
Sugar Crumble
1 & ½ cups - All Purpose Flour
⅓ cup – Granulated Sugar
¾ cup - Brown Sugar Packed
½ teaspoon – Kosher Salt, use a little less if using table salt
¾ cup – Butter, melted (approx 1 & ½ sticks)
Instructions:
Filling Party
Peel, core and cut apples into slices around ⅛" to make it easier to cook down. You will have about 5 lbs of apples at the end of this.
Toss apples into a cold 12" high sided skillet with around half of the lemon/ 2 tablespoons of lemon juice and zest. Stir to coat apples.
On medium heat for around 20 mins covered, cook the apples down. Add 1/2 cup packed brown sugar, 1/2 cup granulated sugar, 1/3 cup flour, 1/2 teaspoon kosher salt, 1 and 1/2 teaspoons cinnamon, 3/4 teaspoon nutmeg, handful of the cinnamon candies (for authentic Rauwerdink crap) and 1/2 teaspoon cardamom (optional). Stir it together gently so you don't break all the apples. Keep stirring every couple of minutes so you get it to a glorious caramel sauce-y-ness. Get the apple to a firmness you like, if you like em' firm don't cook as long etc. "The pectin in the apples is converted to a heat-stable form. (Thanks Cooks Illustrated!) That means when you cook the apples again in your pie in the oven, the apples won't become mushy." - the Food Charlatan
Remove the pan from heat and stir in 1 teaspoon vanilla.
Once you are happy with the apple pie filling of your dreams, put it spread out on a sheet pan in the fridge or freezer (for a shorter time) or leave out to get to room temp (if you are not in a rush). The magic of a no-soggy-crust means all of the components of the pie need to go into the oven cold together.
Crust Party
Make a crust or buy one. Keep it cold. Place it on the bottom of your 9" pie tin/pie pan/whatever circular object. Fold the edges underneath and crimp them with your fingers and thumbs and cut off excess around the edge of the side. Chill that crust! 
"The other important step you need to take to avoid a soggy crust is to blast the heat in the beginning of your cooking time. Turn your oven up all the way to 425 degrees and stick a pizza stone (or sheet pan if you don't have one) on the center rack in your oven. Let it preheat while everything is chilling, about 20-30 minutes. Having direct contact with that really hot surface distributes heat evenly to the bottom of the crust, which results in a firmer, crispier crust. Nobody wants a soggy bottom!" 
Crumble Party
Now you need to build the crumble, which is the best part. In a medium sized bowl add the dry ingredients: 1 and 1/2 cups flour, 1/3 cup white sugar, 3/4 cup packed brown sugar, and 1/2 teaspoon kosher salt (use less for table salt). Whisk together.
In a small bowl, melt 3/4 cup butter (1 and 1/2 sticks). Pour the butter over the dry ingredients and stir together gently. You should end up with a pretty wet sandy mixture with some large clumps. Mix them together enough to get it chunky and close to cookie dough consistency or finer consistency if you don't like the chonks. Chill it. 
Cooking Party
Once all three parts are chilled, pour pie filling into the pie crust. Add enough crumble to cover the top and save the extra for later.
Place the chilled pie onto the baking sheet in the oven and let bake for 15 minutes at 425 F. The crust on the edge should be turning light brown.
Bake halfway, then lower the oven temperature to 350 degrees and add the remaining crumble so that the crumble becomes crisp all the way through and thick. Don't take the pie out, just lower the temperature. Leave it in for another 10 minutes.
After the 10 minutes in the lower temp, quickly remove the pie and shut the oven so it doesn't lose temp. At this point, you will want to cover the edges of your pie crust with foil so it doesn't burn. Cut a hole in the center so the crumble still can cook. 
Put pie back in on the baking sheet(still at 350 degrees) and bake for another 25-35 minutes. The pie will be ready when the crumble is a nice golden brown. The pie should be in the over for a total of 55-65 minutes. If you want your crust and crumble to brown a little more, remove the foil shield and bake for another 5-10 minutes.
Let the pie cool for at least 4 hours so that it gets more solid and not soupy. You can eat it or let it get more delicious by the next day. Like good leftovers. Add vanilla ice cream if you want some extra blood sugar spikes. :) Treat yo' self. 
---
Summer Berry Pie
Today this recipe feels "old school" with jello and cool whip as primary ingredients. But for a summer vacation on the Gulf Coast of Alabama in the '90s, there's nothing more refreshing after a hot day at the beach than some cooling berry pie. Pairs well with freckles on the nose, salty hair, sugar-white sand, and remnants of sunscreen. Best enjoyed while pool towels dry in the sun on the condo balcony. These pies didn't last long in the fridges of my childhood, and even though my palate as an adult has shifted away from thinking of jello and cool whip as the ultimate treats, this pie tastes like delicious summer nostalgia. - Glynnis
Ingredients + measurements:
1 ½ cups raspberries
1 ½ cups strawberries
1 cup blueberries
1 baked pie shell
¾ sugar
3 tsbp. Cornstarch
1 ½ water
1 4 oz. package strawberry jello
8 oz tub cool whip
Instructions:
Mix berries in a bowl.  Pour into pie shell.
Mix sugar and cornstarch into medium saucepan.  Gradually add water until smooth.
Cook over medium heat, stirring constantly until mixture begins to thicken.
Remove from heat.  Stir in jello until dissolved.  Pour over fruit.
Refrigerate 3 hours.  Spread whipped topping over top.  Garnish with berries.
Yield: 8 servings
Source: Southern Living advertisement
If you're looking for a team to help you discover the right thing to build and help you build it, get in touch.