Mystery To Me
Mystery To Me: A Book(store) and Its Cover
Local bookstore gets the perfect brand makeover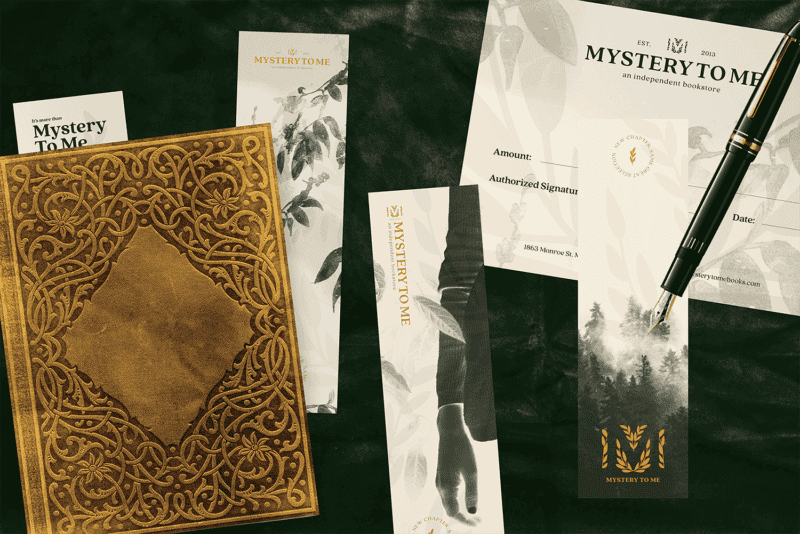 In 2013, Joanne Berg opened her small storefront bookstore on a prominent street. With so much to do in a short time, she couldn't prioritize branding, so she settled for a logo her website designer worked up for her.
Joanne is proud of her bookstore and knows her customers so well she buys inventory based on what she knows they want to read. Beyond selling books, she offers a bookish space for kindred spirits to gather.
At the five-year anniversary of her beloved business, she knew she needed a rebrand but didn't want to go with a big marketing company. When she mentioned this to the owner of the coffee shop next door, he referred her to Kaylee.
The Challenge
It wasn't clear they sold more than mystery books.
While Mystery To Me does have a wide selection of mystery, it also offers fiction, nonfiction, poetry, essays, and a children's section. Non-mystery lovers might pass the store by, not knowing that genre fills only about 35% of its inventory.
It wasn't even clear they sold books.
Nondescript logo, random color usage—the storefront didn't adequately capture sidewalk traffic. A shopper who didn't know the area would have a hard time identifying it as a bookstore as they passed it.
The Solution
A Flagrant designer, Kaylee, sat and chatted with Joanne, getting to know her and her long-term goals, she became inspired by thoughts of gold leaf and book spines. The logo she created, a negative space "M" delicately wreathed in leaves, evokes the ornate drop caps used in old books. She chose a refined, inviting color scheme for the brand colors. And, to clue in non-mystery readers, Kaylee added "It's more than" above Mystery To Me's name.
Kaylee designed Mystery To Me ads for local neighborhood newsletters, business cards, and a series of decorative bookmarks. The finished product was a fresh identity that felt as timeless as books and fellowship.
The Result
"I was completely wowed," Joanne said of Kaylee's designs. When her staff saw the new brand identity, they pronounced it perfect. Not only does the newly designed storefront catch people's attention; it also gets frequent compliments. "People say, 'I love your logo!'" Joanne declares.
At a glance from across the street, Mystery To Me is now unmistakably a bookstore. It entices readers of all genres. Kaylee's limited-edition bookmarks have even become collectors' items among customers!
"People say, 'I love your logo!'" Joanne Berg, Owner, Mystery To Me